LILY - Nipple Covers
Premium self-adhesive and reusable nipple covers (pasties) made of matte silicone with hypo-allergenic adhesive for the best, long-lasting and waterproof coverage.

Why Lily?
Ultra-thin: Thicker at centre with ultra thin edges (0.64mm)
Seamless: Made of second-skin premium matte silicone 
Good Fit: 8.5 cm diameter for best wearing experience
Waterproof: Perfect to be worn while swimming or working out
Safe: Hypo-allergenic medical-grade adhesive is used
How to Apply

(1) Make sure your chest is free from moisturisers, powders, oils or perfumes that reduces the effect of the adhesive.
(2) Peel off the protective plastic film off each Lily and apply one at a time. Press down firmly to ensure good adhesion to the skin.
(3) REMOVE gently. Be careful not to pull skin. Do not rip off. 
Wash & Care 
After wearing your Lilies , hand wash them with mild soap and water, and let them air-dry with the adhesive side up. Once your Lilies have dried, place the protective plastic film back on each one to protect the adhesive. Store your Lilies in their protective travel case. With proper care, you can wear your Lilies over 30-40 times.
(1) We recommend wearing Lily for maximum 8 hours each time.
(2) We use safe and hypo-allergenic medical adhesives, but if you have sensitive skin, please seek professional medical advice before usage of Lily. Anyone could be sensitive to even the best medical-grade adhesives.
(3) Limits of liability: Annibody shall not be liable for any incidental or consequential damages resulting from the use of our products. Please stop using and seek medical advice if you have any irritation or allergic reaction. Liability of Annibody is exclusively for the cost of the product.
Customer Reviews
09/19/2020
Stephanie L.
Singapore
09/14/2020
Anonymous
Hong Kong SAR China
I recommend this product
Love love love
I love how the fabric is so soft and the cutting is so flattening. Can't wait to wear it for my maternity shot tmr.
08/31/2020
Jacy H.
Singapore
I recommend this product
Summer essential!
The pair of Lily ****** stayed on perfectly after an 8 hour day out and proves to be humidity-proof. Wore it under an unlined tube top and the ****** cover remained invisible to the eye. A great investment esp for the summer months when you're bringing out the backless or strapless pieces from your wardrobe.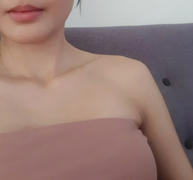 08/27/2020
Mandy W.
Hong Kong
Worth giving it a try!
Perfect match with my LOLA
08/26/2020
Cheryl H.
Hong Kong
Good
Very comfy and seamless way to go braless while wearing off shoulder tops. Perhaps better to wear it in cooler weather because it traps sweat.
Join the #annibodylover Community