(2 Pack) LILY - Nipple Covers
Value Pack (Each purchase include 2 Lilies) of our premium self-adhesive and reusable nipple covers (pasties) made of matte silicone with hypo-allergenic adhesive for the best, long-lasting and waterproof coverage.
Why Lily?
Ultra-thin: Thicker at centre with ultra thin edges (0.64mm)
Seamless: Made of second-skin premium matte silicone 
Good Fit: 8.5 cm diameter for best wearing experience
Waterproof: Perfect to be worn while swimming or working out
Safe: Hypo-allergenic medical-grade adhesive is used
How to Apply

(1) Make sure your chest is free from moisturisers, powders, oils or perfumes that reduces the effect of the adhesive.
(2) Peel off the protective plastic film off each Lily and apply one at a time. Press down firmly to ensure good adhesion to the skin.
(3) REMOVE gently. Be careful not to pull skin. Do not rip off.
Wash & Care 
After wearing your Lilies , hand wash them with mild soap and water, and let them air-dry with the adhesive side up. Once your Lilies have dried, place the protective plastic film back on each one to protect the adhesive. Store your Lilies in their protective travel case. With proper care, you can wear your Lilies over 30-40 times.
(1) We recommend wearing Lily for maximum 8 hours each time.
(2) We use safe and hypo-allergenic medical adhesives, but if you have sensitive skin, please seek professional medical advice before usage of Lily. Anyone could be sensitive to even the best medical-grade adhesives.
(3) Limits of liability: Annibody shall not be liable for any incidental or consequential damages resulting from the use of our products. Please stop using and seek medical advice if you have any irritation or allergic reaction. Liability of Annibody is exclusively for the cost of the product.
Customer Reviews
07/31/2020
Wing Y.
Hong Kong
I recommend this product
Comfy comfy comfy
I wore it for 6 hours on the first time and I didn't have any allergy reaction . It's so comfy !
07/18/2020
Yuhanis Y.
Singapore
I recommend this product
Love it!
It's just fantastic, I feel free! Thank you :)
07/04/2020
Yvonne H.
Malaysia
I recommend this product
It's good
Love that it really feels like a second skin and it's smooth and sticks on well eventhough I'm prone to sweat easily. Comfortable to use. Only have one flaw for me and that is the ****** area coverage should be more opaque as when I wear these covers, I can still see through the dark shadows of my nipples and I would really like if I could wear these covers even under white/**** colour or thin clothes.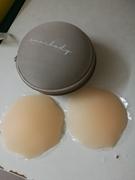 Hi Yvonne, Thank you for you love to Lily Nipple Covers! We will keep on providing the best product and service for our bodylovers. Warmest regards, Annibody Team
07/04/2020
shin t.
Singapore
lily
super thin yet covers the lady parts
Hi kyi shin thant, Thank you for your love and support! Warmest regards, Annibody Team
06/29/2020
Yiying H.
Singapore
Highly recommended
The product cannot be seen even under tight fitting clothes. Will definitely purchase again.
Hi Yiying, Thank you for you love to Lily Nipple Covers, new colour (Medium) is also available now! We will keep on providing the best product and service for our bodylovers. Warmest regards, Annibody Team
Join the #annibodylover Community