LEXI Body - Black
Thoughtfully designed for literally any occasions, the Lexi Body is doubled lined for a breathable body-loving experience. The fabric is similar as Leo Body, which is highly praised for its lightweight, super stretchy and swim-friendly nature. You can wear Lexi on a hot and humid summer day at ease and comfort. The straps are adjustable, with a smooth silhouette stretch to fit your body comfortably.
You can hook the straps 2-way for either a flattering cross-straps back or tone it down as classy straps. Play as you wish— wear solo or as key layering piece, we believe Lexi is going to last in your wardrobe for a really, really, really long period of time. More colors here.
Don't forget to pair this bodysuit with our scrunchies collection which are sustainably made with the leftover fabrics to create the lovely monochrome outfit!
Thong back. Wash cold. 90% Polyester, 10% Spandex.
Model wears a size S.
Join the #annibodylover Community
Customer Reviews
09/25/2020
Jennifer C.

Hong Kong SAR China
I recommend this product
It's cute and I love it
Fabric is soft and comfortable to wear, especially on a hot and humid day. The straps are thin but strong, can adjust and pull easily. Thinking of getting this in taupe or mocha as well! Love >3
08/30/2020
Rachel C.

Singapore
08/28/2020
Stephanie L.

Singapore
I recommend this product
Overestimated the stretch
I'm uk8 and ***** (34D) so I was unsure which size I should get, and whether my boobs will spill out in an obscene manner. I got size M, which is flattering but a bit big for me, considering to either return it or get one in size S. But overall it's really comfortable, love the low-back design.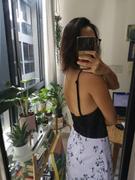 08/28/2020
Leonie B.

Singapore
I recommend this product
Better than any maternity bra!
I'm exclusively breastfeeding my 3 month old and I need quick, simple everything, including clothes and underwear. I love this, it's my panties, bra and top all in one. I just need to add shorts for a complete outfit. To nurse, I just slip the straps off one shoulder and pop a puppy out. So simple! (I'm smaller up top so this might not work for nursing mothers with more generous *******). I look simple, elegant and sleek despite minimal sleep and minimal time to get ready!
08/12/2020
Cheryl H.

Hong Kong
I recommend this product
First time trying out bodysuits...
It's my first time trying out a bodysuit and it looks amazing. I love the way it hugs my body. However it took some time to get the hang of the crotch clasps when I go to the bathroom- undoing the clasps is a breeze, but buttoning them back up is another story. I'm pretty flexible but still I have to bend and strain my lower back quite a bit to button the clasps back up. The neckline is also flattering, but I learned the hard way that when I lie down the neckline can go all the way down and reveal the Lilies that I was wearing which was lowkey embarrassing. I need to shorten the straps on Lexi all the way up before the neckline is "safe"- but then it makes the crotch clasp situation a bit more difficult because of the tightness. Looks super cute though, and I like the effortlessly tucked in look that it gives.