(兩個裝) LILY 親膚乳貼
兩個裝Lily含有兩對Lily及兩個收納圓盒
Lily 是一款高粘力的親膚柔軟乳貼,除了可以重複使用,更可連續使用達六至八小時。時尚的百合外型可配搭Annibody的所有Bodysuit,或透視及輕薄的上衣時都十分貼服輕盈,舒適呵護你的肌膚之餘又不易脫落,完美地和你的各種造型融合。由於Lily是100%防水防汗,你亦可以穿在泳衣、運動胸罩之下打底,防走光、防凸點,用途廣泛是每位女生的必備品。
為什麼選用Lily?
✔️中間厚、邊緣漸薄的無縫設計 (厚度只有0.2cm),完美貼合肌膚
✔️使用醫學用的高級矽膠打造天然質感,不易刺激、不反光
✔️背面強力抗敏黏貼設計,不會影響胸形
✔️直徑達8.5cm,安全、貼服又持久
✔️適當保養可以重用達40次以上
✔️防水防汗,十分適合穿著在泳衣、運動胸罩之下打底
使用方法
(1)確保您的胸部沒有塗抹任何護膚品,粉末,油脂或香料,因為這些會影響黏合。
(2)撕去保護塑料膜,在每邊黏上一個Lily。輕按Lily以確保它與您的肌膚有良好的附著。
(3)使用後:輕輕取下。注意不要拉扯到皮膚和用力扯下。
清洗與護理
佩戴完Lily過後,請用溫和的肥皂和水清洗,並將黏合面朝上,使其風乾。風乾後,請將保護膠膜放回Lily上面,以保護黏合面。最後,將您的Lily放回附送的保護盒中。經過適當的護理,您可以佩戴Lily30至40次以上。
Join the #annibodylover Community
Customer Reviews
12/26/2020
Yi H.
Singapore
11/15/2020
Grace
Singapore
I recommend this product
Best ****** covers ever!
I've since dumped the other ****** covers as this lily ****** cover has totally taken over my heart. It's adhesive is good and yet gentle on the skin. It doesn't drop off easily & doesn't have any visible crease beneath clothes. I perspire quite a lot in the humid weather. The other ****** covers I've either dropped after I perspire OR show under white clothings OR are only reusable thrice and off it goes into the bin,
11/11/2020
Natalie F.
Hong Kong
I recommend this product
They stay on well
Wore them under my gym top yesterday and they stayed on very well. They do trap sweat as the other review mentioned. Can see a hint of petal edge when I wear fitted white bodysuit but it doesn't bother me that much. I can always wear nubra under the white suits.
11/11/2020
FIONA A.
Malaysia
I recommend this product
Best ****** Covers!
Let's just say I am a believer from the very first time I tried these on. Don't think I can ever go back to regular ****** covers ever again. The Lily is very well shaped and very thin, which makes it non-obvious under garments. I have since really love to go bra-less cause it's so liberating and you do not have to worry about any accidental nip-slips cause these do not budge at all! Just make sure to clean and store them with the protective film on and they should last pretty long. It's been half a year since I started using Lily and I'm still on my first pair.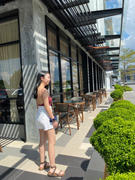 11/05/2020
Wing .
Singapore
I recommend this product
Best one I've tried so far
I love using ****** covers as bras are very restrictive and I have tried many different brands before. At first I was hesitant to buy as they're a little on the pricey side and I've bought expensive ones which didn't work very well. I'm glad I decided to purchase Lily cause they're worth every penny!! The quality is very good and they stay in place really well. The best part is that they doesn't show under white tops!!! Highly recommended!